Dr. Mylynda Massart receives Medical Student Research Mentoring Merit Award
This very prestigious award that was initiated by medical student recommendations, is presented to a Longitudinal Research Project (LRP) mentor of a graduating Pitt Med student in recognition for outstanding mentoring over the course of the LRP.
The award was presented at the University of Pittsburgh School of Medicine's 2021 Virtual Scholar's Day on Wednesday, April 21st.
Duncan Clark Award winner – Association for Prevention Teaching and Research
Presented to an APTR member with a distinguished record of achievement in the areas of teaching, research and/or advocacy in the field of public health and preventive medicine. This award is named after a founding member of the association.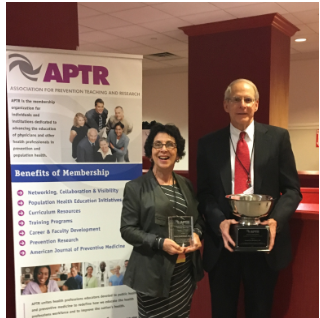 Society of Teachers of Family Medicine Foundation New Faculty Scholar Award
Former Faculty Development Fellow who is now faculty at University of Washington, was selected by the Society of Teachers of Family Medicine Foundation as one of ten recipients of the 2018 New Faculty Scholar Award. This program is designed to be a catalyst for developing future leaders in STFM and other areas of academic family medicine
Society of Teachers of Family Medicine Emerging Leader Fellowship
The yearlong Emerging Leaders Fellowship offers training, tools, and support for new faculty and those who are transitioning to leadership roles.
Barb Nightingale, MD (UPMC MCK) (2018-19)
Greg Castelli, Pharm D (UPMC STM) 2018-19
Joseph Heinz, MD (UPMC ALT) 2017-18
Jennie Broders Jarrett, PharmD, MS (UPMC STM) 2013-14
Saby Karrupiah, MD (UPMC STM, UPMC ALT) 2012-13
Paul R Larson, MD, MS, DTHM (UPMC STM) 2012-13
Behavioral Science/Family Systems Educator Fellowship
Yearlong Society of Teachers of Family Medicine fellowship is for family medicine faculty who have responsibility for coordinating or teaching the behavioral science/family systems curriculum.
Jim Mercuri, MSW  (UPMC STM)
Residency Faculty Fundamentals Certificate Program
This Society of Teachers of Family Medicine program provides foundational training for residency faculty
2017-18
Gretchen Shelesky, MD, MPH2003-2006)
Monica Schaffer, MD
Quynh Chu, MD
Suzan Skef, MD
Pennsylvania Academy of Family Physicians (PAFP) Exemplary Teacher of the Year Award 2017
Society of Teachers of Family Medicine President-elect, President, Past-president
Stephen A Wilson, MD, MPH, FAAFP (2016-2019)
Jeannette South-Paul (2003-06)